BEST LOVING POETRIES IN URDU
Urdu:
میں نے اردو میں بہترین محبت کی شاعری لکھی ہے، اور میں اسے آپ کے ساتھ شیئر کرنا چاہتا ہوں۔ یہ شاعری آپ کو محبت کی تمام مختلف حالتوں کا احساس دلائے گی، خوشی سے غم تک، اور امید سے مایوسی تک۔ میں امید کرتا ہوں کہ آپ اس شاعری سے لطف اندوز ہوں گے، اور یہ آپ کو اپنے پیاروں کے لیے محبت کا اظہار کرنے میں مدد کرے گی۔
English:

I have written some of the best Love Poetries In Urdu, and I would like to share them with you. This poetry will make you feel all the different states of love, from happiness to sadness, and from hope to despair. I hope you enjoy this poetry, and that it helps you to express your love for
your loved ones.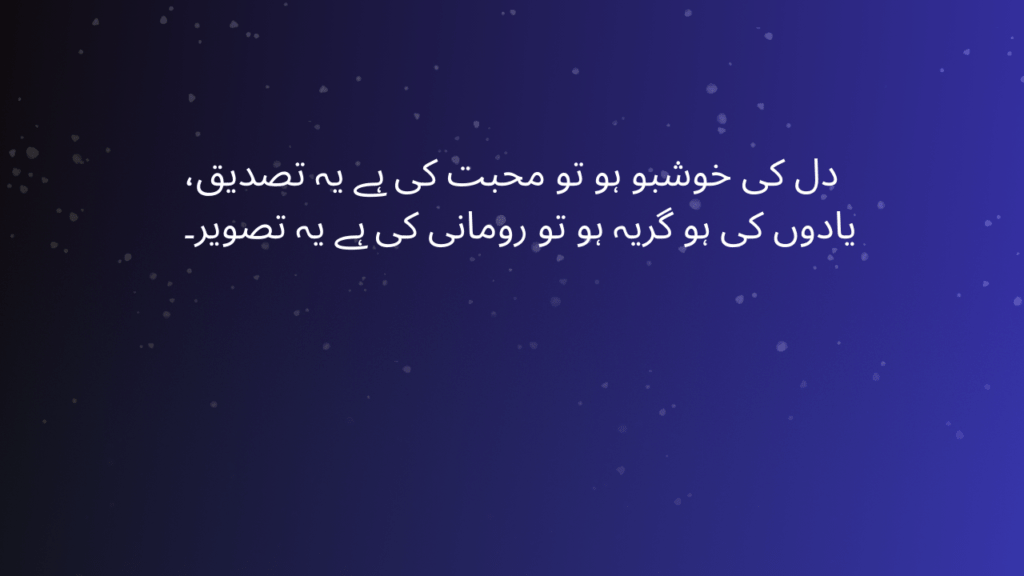 دل کی خوشبو ہو تو محبت کی ہے یہ تصدیق، یادوں کی ہو گریہ ہو تو رومانی کی ہے یہ تصویر۔
راہ میں یہ غم ملے، کہتے ہیں بدلتی ہوئی زندگی، دل کی دہر میں چھپی ہے ایک اداسی کی لکھی ہوئی کہانی۔
راستوں کی ہر لمحہ میں چھپی ہے زندگی کی راز کیا کیا، یادیں تری گلزاروں کی طرح خوشبو دیتی ہیں۔
دل کی دھڑکنوں میں بسی ہے دل کی بے قراری کی داستان، یادوں کی لبوں پہ مسکراہٹوں کی طرح خواب سجتا ہے۔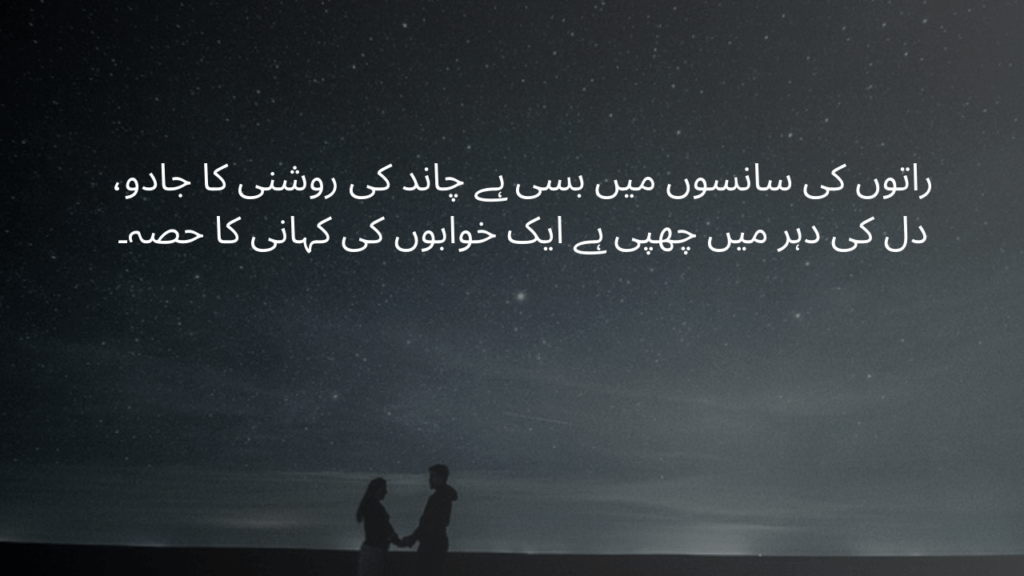 راتوں کی سانسوں میں بسی ہے چاند کی روشنی کا جادو، دل کی دہر میں چھپی ہے ایک خوابوں کی کہانی کا حصہ۔
    چاندنی راتوں میں چمکتے ہیں ستارے تیرے انتظار کے، دل کو بے قراری سے کچھ ملتا نہیں راہوں میں۔
   خوابوں کی راہوں میں گم ہو جاتے ہیں جیو ہم، راہ میں یہ غم ملے، کہتے ہیں بدلتی ہوئی زندگی۔
یادیں تری ہونٹوں پہ مسکراہٹوں کی طرح محسوس ہوتی ہیں، راستوں کی ہر لمحہ میں چھپی ہے زندگی کی راز کیا کیا
یادیں تری گلزاروں کی طرح خوشبو دیتی ہیں، دل میں اب بھی تیرے خیالات کی روشنی چمکتی ہے۔
یادیں تری گلزاروں کی طرح خوشبو دیتی ہیں، دل میں اب بھی تیرے خیالات کی روشنی چمکتی ہے۔